Trip Introduction: 2 Days Chitwan Jungle Safari 2023/2024.
The 2-Day Chitwan Jungle Safari is one of the most exciting tours that take you to Chitwan National Park, a UNESCO World Heritage Site in the south of Nepal. This safari plan gives you a unique chance to see the beautiful nature of Chitwan, Nepal's oldest national park, which was founded in 1973 and is home to many different species and birds. The tour is meant to give you a full experience by letting you meet the local Tharu people, see where elephants are raised, and go on a thrilling jungle adventure to see one-horned rhinoceroses, Bengal Tigers, and other animals in their natural habitat.
The park is known for its lush woods, fields, and wetland areas, which are home to many different kinds of plants and animals. It is surrounded by the Rapti and Narayani Rivers, which are important sources of water for animals and home to a wide range of marine species.
When it comes to people and how they live, the Tharu people are known as the original people of Chitwan. The Tharu people have lived in peace with the animals and trees of the national park for hundreds of years. Their close relationship with the environment has shaped their unique culture, habits, and way of life, and they continue to be an important part of conservation efforts in the park.
Chitwan Jungle Safari is a great way to experience the wildlife and culture of Chitwan National Park and its beautiful natural setting. The safari is good for people of all ages and exercise levels, and it gives people a better chance to learn about the park's different habitats and ecosystems. The tour might be ideal for people who want to learn about different cultures and see beautiful natural places at the same time.
Overall, the 2 Day Chitwan Jungle Safari is a must-do trip for anyone traveling to Nepal who wants a unique and amazing adventure in one of the most bio-diverse places in the world.
Why the 2 Days Chitwan Jungle Safari Tour?
Holiday Tours Nepal shares various reasons for the Chitwan Jungle Safari. Some of the reasons are:
Rich Biodiversity: Chitwan National Park is known for its wide variety of animals, such as the one-horned rhinoceros, Bengal tigers, leopards, and many others. On a safari here, you can see these magnificent animals in their native environment.
Unique Wildlife Encounters: Elephant-back safaris, jeep trips, and guided nature walks are some of the ways to see the park's wildlife. Each experience gives you a different view of the wildlife in the park and lets you get close to animals you may have only seen on TV.
Bird Watching: Birdwatchers will love Chitwan because it has over 540 different kinds of birds. No matter how long you've been interested in birds or if you're just starting out, you'll be mesmerized by the park's bright birdlife.
Cultural Immersion: Chitwan has more to offer than just animals. You can meet the local Tharu people, watch their traditional shows, and learn about how they live. This cultural detail gives your trip more depth and makes it feel more real.
The park has some of the most beautiful scenery in the world, from dense woods to quiet riverbanks and wide grasslands. Not only are these beautiful views great for taking photos, but they also offer quiet moments in nature.
Conservation Impact: By going on a Chitwan Jungle Safari tour, you are helping to protect this beautiful place. Tourism brings in money that helps pay for important conservation efforts that protect the park's wildlife and ecosystems.
Safari tours in Chitwan are usually led by experienced naturalists and guides who know a lot about the park's plants, and animals, and attempt to protect them. Their knowledge helps you learn more about the environment and gives you the best chance of seeing wildlife.
Sustainable Tourism: Chitwan is committed to sustainable tourism, which means that your visit will have as little effect on the earth as possible. Many tour companies follow eco-friendly rules and encourage responsible travel.
Memorable Experiences: Chitwan National Park's wildlife experiences, cultural immersion, and natural beauty will leave you with memories you'll keep for the rest of your life.
Adventure and Rest: Chitwan is a great place for both adventure and rest. During the day, you can do exciting things in the jungle, and at night, you can relax in comfortable lodges or resorts. This makes it a great place for all kinds of tourists.
In the end, a Chitwan Jungle Safari is a unique and satisfying way to connect with nature, help protect it, and make memories that will last a lifetime in the heart of Nepal's pristine wilderness. It's a trip that gives you a rare look at the natural world's beauty.
How Should you Prepare for the Chitwan Jungle Safari?
Preparing for a Chitwan Jungle Safari is important to make sure that the trip is safe and fun at the same time. Holiday Planner Nepal shares some of the tips for the preparation of your trip:
Research About the Destination.
This is the first and foremost thing you need to do. Research information about Chitwan National Park, its inhabitants, and the place you'll be traveling to. Learn about the weather, the environment, and the kinds of animals you might meet.
Plan in Advance and Book your Trip.
Choose a tour company with a good reputation and book your trip early to make sure you get a spot. Check reviews and suggestions to make sure that the company you're booking with is a good one. Holiday Planner Nepal is also regarded as the top company for better service.
Look at your visa Permission.
Check if you need an extra day visa for Nepal. Make sure you have all the documents you need to fly.
Pack the Appropriate Clothes.
Pack clothes that are light and good for the weather. For wildlife watching, it's best to wear clothes with neutral colors. The colorful clothes might attract the wildlife and hamper them. Don't forget to bring sturdy, comfortable shoes for walks in the woods.
Weather-Appropriate Gear.
Depending on the season, you should pack different things. Sunscreen, a hat with a wide top, sunglasses, and bug spray are all important. In autumn and winter, bring warm clothes for the chilly evenings.
Making Medical Plans:
Carry a simple first-aid kit with things like bandages, pain relievers, and any personal medications.
Binoculars and a Good High Performance Camera.
Bring your camera and glasses to take pictures of your surroundings, and watch birds and animals. There is a lot of amazing wildlife and birdlife to see. Don't forget to bring along extra batteries and memory cards. But you need to be careful about the flashlights and other lights that might hamper the wildlife.
Travel Insurance.
You are strongly advised to get travel insurance that covers medical situations, trip cancellations, and any adventurous activities you plan to do on your safari.
Learn About Local Customs.
Learn about the local customs and rules of behavior, especially if you want to associate with the Tharu people. It's important to respect the customs of the area.
Pack Light.
Keep your bags small and easy to handle because you might have to move them through forests and onto small boats on your trip.
Stay Fit and Hydrated.
Bring a refillable water bottle with you to stay refreshed while you're out and about.
Learn about the plants and animals that live in Chitwan National Park before you go. Your trip will be better if you know how the animals act and how they live.
Respect the Environment and Wildlife.
Learn about the rules and laws of the Chitwan National Park. Always follow social rules when watching wildlife, like keeping a safe distance from them.
If you're well-prepared for Chitwan Jungle Safari, you'll not only be safer, but you'll also be more likely to have a fun and memorable time in this beautiful natural paradise.
What is the Best Season for Chitwan Jungle Safari?
The best season for a Chitwan Jungle Safari depends on your preferences and the activities you want to take part in. Chitwan National Park has distinct seasons, each of which offers unique advantages.
Autumn (September to November).
The autumn season is the finest time of year for Chitwan Jungle Safaris.
The temperature is moderate, the sky is clear, and the humidity is low.
Wildlife is active during this time because they are preparing for winter, making it an excellent time to observe wildlife.
As migratory birds visit the sanctuary, bird watching there is exceptional.
After the monsoon, the park's attractiveness is enhanced by the lush vegetation.
Winter (December to February).
The daytime temperatures during the winter in the Chitwan area are mild and chilly.
During the dry season, visibility is excellent, making it simpler to spot wildlife.
This can be advantageous for observing animals, including tigers, as they congregate around water sources.
It is also an ideal period for bird watching.
Spring (March to May).
Spring is another popular safari season in Chitwan.
The weather begins to warm and the days grow longer.
The park's lush, verdant appearance is pleasing to the eye.
Wildlife observations are still abundant, and the park's flowering vegetation is particularly vibrant.
As migratory birds depart and resident species are active, birding is superb.
Monsoon (June to August):
The monsoon season in Chitwan is characterized by excessive precipitation, high humidity, and high temperatures.
The park becomes verdant and luxuriant, but visibility is impaired by the dense vegetation.
During the rainy season, wildlife is less active and more difficult to detect.
There may be restrictions on river activities such as canoeing due to higher water levels.
Depending on your priorities, the ideal season for your Chitwan Jungle Safari will vary. Autumn and winter are ideal if you want to maximize wildlife sightings and experience comfortable weather. Spring offers a gorgeous combination of flowering plants and animal activity. You can choose the monsoon season, however, if you prefer verdant foliage and don't mind the occasional rain. During peak seasons (autumn and spring), it is recommended to reserve accommodations and safaris in advance to guarantee a spot.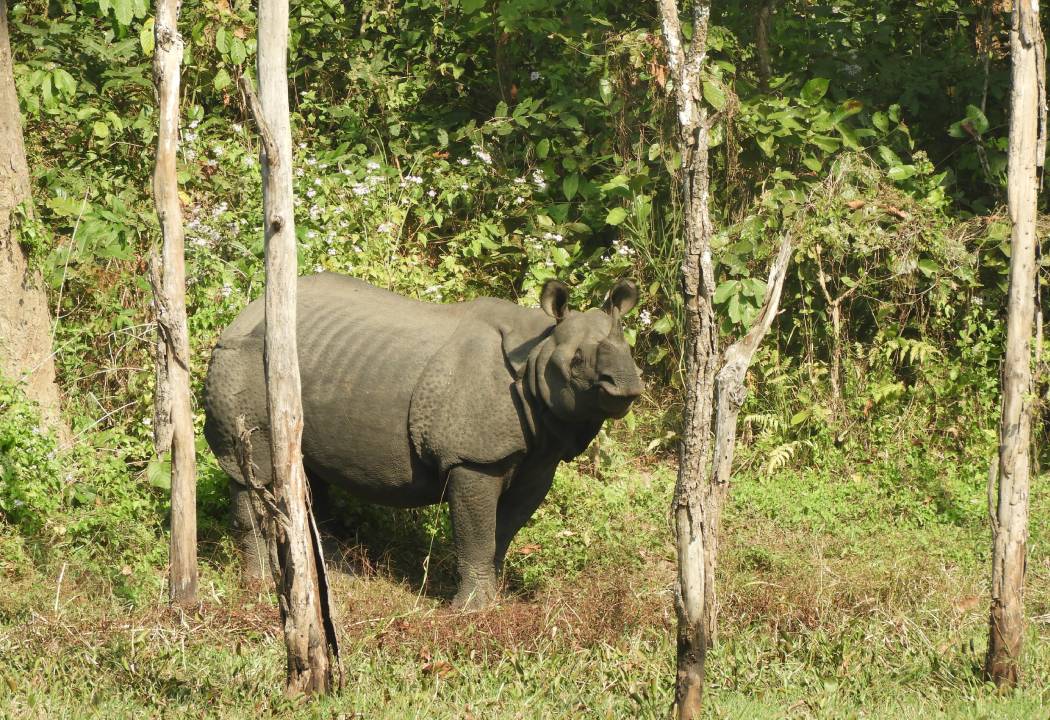 Local Customs and Culture Surrounding Chitwan Jungle Safari.
Chitwan Jungle Safari provides not only a unique wildlife encounter but also an opportunity to immerse oneself in the rich local culture and traditions of the Tharu people, who have inhabited the region for generations. Here are some aspects of Chitwan Jungle Safari's indigenous culture and customs:
Tharu Traditions: The indigenous inhabitants of the Terai region, including Chitwan, are the Tharu people. They have a unique culture with distinctive customs, rituals, and art forms. Visitors can frequently participate in or observe colorful and vivacious Tharu dance performances, which showcase the community's heritage.
Numerous lodges and resorts in Chitwan host cultural programs where you can observe Tharu cultural performances. These performances include traditional dances, melodies, and rituals, revealing the history and beliefs of the community.
Explore local markets to find Tharu handicrafts and artwork, which frequently feature intricate patterns and vivid hues. Not only does purchasing these handicrafts support local artisans, but it also allows you to take a piece of Tharu culture home with you.
Men and women of the Tharu ethnic group don distinctive traditional clothing. During cultural interactions, you may have the chance to put on Tharu attire and learn about its significance.
Depending on the timing of your visit, you may have the opportunity to participate in or observe Tharu festivals. One notable festival is "Maghi," which is celebrated in January and commemorates the Tharu New Year with a variety of rituals and festivities.
Local Cuisine: Savor Tharu cuisine, which frequently incorporates dishes made with locally cultivated ingredients. You may appreciate dhido (a traditional Nepalese food made from millet), Gundruk (fermented leafy greens), and numerous rice and lentil dishes.
While Nepali is the most common language in the country, the Tharu community also has its own language. Respectfully engaging with the local culture may involve learning a few fundamental Tharu phrases or greetings.
Respect for Nature: The Tharu have a strong connection to nature and frequently engage in sustainable agriculture and wildlife conservation. They use their extensive knowledge of the local flora and fauna for medicinal and culinary purposes.
It is essential to respect the Tharu people's customs and traditions when interacting with them. Before taking photographs, obtain permission and engage with sensitivity to their way of life.
Exploring the local culture and traditions of the Tharu community gives your Chitwan Jungle Safari more depth and authenticity. It is a chance not only to appreciate the natural beauty of the region but also to interact with the people who have coexisted with the jungle for generations.
Chitwan Jungle Safari's Laws and Regulations.
When participating in a jungle safari in Chitwan National Park, it is essential to abide by the park's rules and regulations to ensure your safety, minimize your influence on the environment, and show proper courtesy to the park's wildlife and local communities. Observe the following rules and regulations during Chitwan Jungle Safari:
Permits and Fees for Entry: (included in the package).
Before entering the park, obtain the necessary permits and pay the required entry fees. This consists of both the National Park Entry Permit and the Buffer Zone Entry Permit.
Guided Tours: (included in the package).
Chitwan National Park requires that visitors be accompanied by a licensed guide. Follow your guide's instructions and remain with your group during jungle activities.
Respect Nature.
Always maintain a secure distance from wildlife.
Do not approach or provoke animals, and avoid creating loud noises that could disturb them.
Do not attempt to feed or approach the animals.
Feeding fauna can have negative effects on their natural behaviors and health.
Keep to Established Trails.
During jungle excursions and activities, stick to established trails and paths. Off-trail excursions can damage the environment and disturb fauna.
No Smoking or Open Flames.
The park prohibits smoking to prevent forest fires. No fires or exposed flames are permitted within the park.
Do not Litter.
Properly dispose of all refuse. Carry out all waste, including plastic bottles and packaging. Do not leave any traces of your visit.
Cooking and Camping.
Fires are strictly forbidden. Cooking is prohibited within the park unless specifically authorized by park authorities.
No Pets Allowed.
It is prohibited to bring pets into Chitwan National Park because they can disturb wildlife and undermine the park's ecosystem.
Respect Local Neighborhoods.
Respect and contemplate local communities, particularly the indigenous Tharu, in particular. Before taking photographs of individuals or their property, obtain permission.
Marine Security.
Wear life jackets and adhere to the safety instructions provided by your guide or boat operator when participating in canoeing or watercraft.
Swimming is not Allowed.
Swimming is prohibited in rivers and ponds within the park due to the presence of crocodiles and other hazardous wildlife.
Quiet Areas.
There may be specified quiet zones in certain areas of the park to reduce human disturbance of wildlife. Respect and observe these zones.
No Evening Activities.
For safety reasons and to minimize disturbance to nocturnal wildlife, nighttime jungle activities such as trekking and camping are not permitted.
Responsible Photography.
Avoid using flash photography when taking photographs, as it can disturb wildlife, especially during night excursions.
Conservation Initiatives:
Support conservation and research efforts within the park by adhering to the rules and suggestions provided by park officials and tour guides.
By adhering to these rules and regulations, you can contribute to the preservation of the natural grandeur and biodiversity of Chitwan National Park while enjoying a safe and responsible jungle safari.
Why Holiday Planner Nepal for Chitwan Jungle Safari?
Holiday Planner Nepal. There are several reasons why :
Review and Reputation: Holiday Planner Nepal is a reliable and trustworthy tour operator that will have a lot of good reviews and a good image.
Experience: We have been working in the tourism field for the past decade and with enough experience.
Range of Services: Holiday Planner Nepal is always recognized for the top-class services provided to its clients. We provide comprehensive packages that include accommodations, guided tours, transportation, permits, and meals, ensuring a hassle-free experience.
Environmental Responsibility: We are committed to preserving the environment and doing tourism in a responsible way.
We do accept last-minute bookings as well. Besides, we are also flexible with tailor-made itineraries and we are budget budget-friendly travel agency.