Trip Introduction: 1-Day Everest Base Camp Helicopter Tour with Landing 2023/2024.
The Everest Base Camp Helicopter Tour is a helicopter ride that takes you to the Himalayas of Nepal and provides you with a birds-eye view of the mountains and peaks.
Holiday Tours Nepal presents and package of helicopter tours to Everest Base camp which includes landings in two separate locations to make this journey even more memorable. The Everest Base Camp Helicopter Tour with Landing is an exhilarating and awe-inspiring event that shortens the incredible walk to the world's highest mountain into a single day. This adventurous adventure begins with a magnificent helicopter trip from Kathmandu to the heart of the Himalayas at the Everest Base Camp.
While flying over the charming Sherpa settlements and unspoiled landscapes, you'll be treated to stunning views of iconic peaks like Mount Everest, Lhotse, Nuptse, Thamserku, Kangtega, Pumori, Cho-Oyu, Makalu and Ama Dablam.
The main highlight of this journey is a helicopter landing near Everest Base Camp at the destination of Kalapatthar and at Namche Bazar to have breakfast at the Everest View Hotel, where you may step out and immerse yourself in the bizarre, high-altitude landscape surrounded by towering mountains and glaciers. This one-day helicopter tour delivers incredible contact with the world's roof, whether you're a seasoned trekker looking for a unique perspective or an adventure seeker hoping for an unforgettable voyage.
What is the Best Season and Time to visit Everest Base Camp by Helicopter?
The best season and timing for an Everest Base Camp Helicopter Trip are usually determined by the weather and conditions in the Everest Region. The walking and helicopter trip seasons are primarily in the spring and autumn. More information on each season can be found below:
From March until May, the finest time to visit Everest Base Camp by Helicopter is in the spring. Clear skies and warmer temperatures characterize the weather. The spring season provides excellent visibility for taking in the breathtaking mountain views. Lower-elevation rhododendron woodlands are in full bloom, contributing to the visual charm.
From September until November, autumn is another excellent season for Everest Base Camp Helicopter Flights. The weather is normally clear, with crisp, blue skies. The weather is pleasant, making it perfect for trekking and helicopter rides. The vistas of the Himalayan peaks, especially Mount Everest, are usually spectacular.
While these are the principal reasons for Everest Helicopter Tours, weather conditions might vary from year to year, and there is always the possibility of unexpected changes in high-altitude weather. Before arranging your trip, make sure to check with local tour operators and meteorological agencies for the most up-to-date weather information.
Furthermore, bear in mind that the popularity of these tours might result in high demand during peak seasons, so book your helicopter tour well in advance to reserve your seat.
Where does the Helicopter tour to Everest Base Camp Begin and End?
The helicopter journey to Everest Base Camp begins and ends in Kathmandu. Let's go over the helicopter tour in detail.
We begin our journey by driving to Kathmandu's international airport and then inside the domestic terminal. We proceeded to the stated terminal after completing the check-in and security procedures. Then we board the shuttle bus, drive to our helicopter, fasten our seat belts, and fly from Kathmandu to Lukla on a helicopter tour.
We occasionally stop in Lukla for refueling before continuing our journey to Mount Everest's Base Camp, where we fly over Nepal's roaring epic Himalayas and above the Khumbu Glacier.
We arrive at Kalapatthar or Everest Base Camp after completing the half-flyover, depending on the pilot and the weather. We have around 10–15 minutes after landing to snap photos and enjoy the scenery. After landing at Everest Base Camp, or Kalapatthar, we fly to Namche over the Khumbu Glacier, complete our full loop, and then fly over from Tengboche, Dingboche, and Pheriche towards the Everest View Hotel in Namche. Spend some time in Namche and have breakfast at the Everest View Hotel, which is at an elevation of 3880 meters.
After finishing breakfast, we travel back to Kathmandu, where holiday tour Nepal personnel will meet the visitors at the airport and drop them off at the destination of their choice. Is the helicopter excursion to Everest Base Camp worthwhile? The value of an Everest Base Camp Helicopter Tour is determined by your personal choices, your budget, and the type of experience you seek.
Here are some things to think about while deciding whether it's worthwhile for you.
The Benefits of an Everest Base Camp Helicopter Tour.
Spectacular Scenery: The tour provides stunning vistas of the Himalayas, including Mount Everest, and is a once-in-a-lifetime opportunity for many.
Time-Saving: It gives an easy approach to reaching Everest Base Camp and appreciating the grandeur of the region without committing to a lengthy journey that can last weeks.
Comfort and Luxury: Compared to trekking, helicopter excursions provide a more comfortable and luxurious approach to visiting the Everest Region. The excursion is accessible to people of all fitness levels because it does not require heavy hiking.
Flexibility: You can pick between private and shared trips, as well as personalize components of the trip, like landing locations. Considerations and drawbacks:
Cost: Helicopter excursions to Everest Base Camp, particularly private ones, can be costly.
Environmental influence: Helicopter tours can contribute to noise pollution and have an influence on the environment, which some passengers are concerned about.
Altitude Sickness: When landing at high altitudes near Everest Base Camp, some people may get altitude sickness.
Time on the Ground is Limited: Because the time spent at Everest Base Camp or Kalapatthar during a helicopter tour is limited, you won't have as much time to explore the area as you would on a trek.
To summarize, an Everest Base Camp Helicopter Tour is worthwhile for people who want to experience the grandeur of the Everest Region without committing to a long hike or having limited time for their vacation. It's a terrific choice for budget-conscious travelers who value convenience and breathtaking aerial vistas.
Trekking to Everest Base Camp, on the other hand, may be a more gratifying option for physically fit individuals, who have more time, and want a more immersive and culturally rich experience. Finally, the worthiness of the tour is a subjective matter that is determined by your personal travel goals and tastes.
Why is the Everest Base Camp helicopter Tour Popular?
The Helicopter tour to Everest Base Camp is well-known for various reasons. The tour provides guests with the opportunity to see some of the world's most spectacular and awe-inspiring vistas.
Flying over the Himalayas reveals high peaks, deep valleys, glaciers, and rough regions inaccessible by road.
Accessibility: The helicopter trip is a quick and easy way to get to Everest Base Camp, the starting point for climbers attempting to summit Mount Everest. This opens it up to people who may not have the time, physical fitness, or climbing skills to complete the difficult walk to the base camp.
Time-saving: When compared to the usual trek to Everest Base Camp, which typically takes 10–14 days, the helicopter tour saves time. The helicopter can take you there in a matter of hours, allowing you to experience the Himalayas without having to hike for days.
Safety and comfort: Helicopters are a more pleasant and safe means of transportation, especially in the Himalayas' difficult terrain and variable weather conditions. This is especially crucial for people who are new to trekking or mountaineering.
Sightseeing and Photography: Passengers on the helicopter trip can capture magnificent images and experience panoramic vistas of the world's highest mountains, including Mount Everest. It offers a great vantage point for photographing the Himalayas.
For many, the chance to stand at the base of the world's highest peak is a once-in-a-lifetime opportunity. The Everest Base Camp Helicopter Tour has grown in popularity in recent years, particularly since COVID-19.
The Everest Base Camp Helicopter Tour is a Boombastic package that many travelers want to experience, and the reasons for going on a helicopter tour towards Everest are mostly lack of time and wanting to experience the Himalayas; lack of physical strength for trekking and wanting to visit the place in a helicopter; wanting to experience the Himalayas in a luxury style in the way that the wealthy do; wanting to experience the view and feeling in a short amount of time.
What is the Location of the Landing During the Everest Base Camp Helicopter Tour?
The landing takes place at Kalapatthar, which is the ideal point for panoramic views of Terra and 360-degree views of the mountains, where visitors may see the Magnificent Mount Everest. The view of these 8000-meter-mark mountains from the helicopter journey to Everest Base Camp is an experience that only a handful can witness but will remember till the last of their breath.
The second landing occurred at the Everest View Hotel, one of the nicest hotels in the Everest Region. Its elevation of 3880 meters (13,050 feet) affords the best view of the mountains while we eat breakfast after landing.
Note: Helicopter excursions can land at various locations based on client demand and necessity, but we need advance notice of the landing locations so that the required arrangements can be made.
What are the Mountains Observed on the Approach to Everest Base Camp during a Helicopter Tour with Landing?
You'll get to see some of the most stunning mountain views in the Everest Region during an Everest Base Camp Helicopter Tour with a landing.
While the exact mountains you see will depend on your helicopter route and weather conditions, here are some of the notable peaks and landmarks you can expect to see:
Mount Everest (also known as Sagarmatha or Chomolungma):
The tour's highlight is, of course, Mount Everest, the world's tallest peak. You'll get a close-up look at its breathtaking peak.
Lhotse (8,516 meters/ 27,940 ft).
Lhotse (8,516 meters/ 27,940 ft). is the world's fourth-highest mountain, located close to Mount Everest. It has a towering pyramid-shaped apex.
Nuptse (7,861 m /25,791 ft).
Nuptse is a beautiful mountain immediately west of Everest. It is a spectacular sight due to its steep and rocky aspect.
Ama Dablam (6,812 metres/22,349 ft).
Ama Dablam is one of the region's most recognizable and visually stunning peaks. Its distinctive shape and prominence make it popular among climbers and photographers.
ChO Oyu (8,188 metres/26,864 ft).
Cho Oyu is the world's sixth-highest mountain, located west of Everest. It features a large, snowy summit. Pumori: Pumori is another stunning peak close to Everest. It has an ice-covered pyramid shape, and its name means "unmarried daughter" in Sherpa.
The Khumbu Glacier.
As you near Everest Base Camp, you'll fly above the massive Khumbu Glacier, which flows down from the Everest Region into the Khumbu Valley.
The Khumbu Icefall.
The Khumbu Icefall is a perilous and ever-changing portion of the way to Everest's summit. You'll get a unique airborne perspective on this difficult terrain.
Monasteries and Sherpa Villages.
In addition to the mountains, you'll pass through traditional Sherpa communities and Buddhist monasteries, such as Tengboche Monastery, enriching your tour with cultural and scenic richness.
Please remember that weather conditions and visibility may change during your flight. The pilot and tour operator will do all possible to ensure your safety and enjoyment, optimizing the route based on weather and visibility on the day of your excursion.
How much time do we have during the Landing on an Everest Base Camp Helicopter Tour?
The amount of time you have for a landing during an Everest Base Camp Helicopter Tour depends on the specific information you provide to Holiday Tours Nepal and the designated time you want to extend will result in extra cost.
Typically, you should allow 10 to 15 minutes for the landing at an appropriate place near Everest Base Camp. The duration of the landing sometimes includes time for you to step out of the helicopter, take in the breathtaking landscape, take photographs, and take in your surroundings. Keep in mind that weather, helicopter schedules, and other logistical concerns may all have an impact on the exact time you have for the landing. When scheduling your helicopter tour, it's a good idea to ask Holiday Tours Nepal your helicopter tour operator about the duration of the landing so you know exactly what to expect during this section of the tour.
Is the Helicopter landing at Everest Base Camp safe?
The Everest Base Camp Helicopter Trip with a landing can be regarded as safe when performed by recognized and skilled helicopter operators, such as holiday tours in Nepal, that prioritize safety precautions and observe aviation laws.
However, helicopter flights, like any other aviation activity, carry inherent risks, particularly in the difficult and high-altitude terrain of the Himalayas. Here are some things to think about when it comes to the safety of such tours.
Examine client feedback and see if they have all of the appropriate licenses to operate in the area.
Experienced Pilots: Ensure that the pilots leading the tour are experienced and educated about the challenging flying conditions in the Everest Region.
Weather Conditions: The weather in the Himalayas can change quickly, and bad weather might jeopardize helicopter missions. Holiday Tours Nepal will prioritize passenger safety and may cancel flights or make route changes in response to weather forecasts.
Aircraft Maintenance: Ensure that the helicopters utilized for the tour are adequately maintained and are examined regularly to ensure that they fulfill safety standards.
Considerations for Altitude: Flying at high altitudes poses unique obstacles, such as lower engine performance and thin air. Pilots are well-versed in dealing with these difficulties. Pay close attention to the pre-flight safety briefing and follow all crew and pilot directions.
Altitude Sickness: When landing at high elevations near Everest Base Camp, be cautious of the possibility of altitude sickness. If necessary, tour operators should be prepared to provide basic medical help.
Landing places: Choosing appropriate landing places is crucial to ensuring safety. Pilots should select landing areas that are safe for landing, taking into account elements like wind conditions and topography.
While there are safety precautions in place, passengers must be prepared, physically fit, and knowledgeable about the risks involved with high-altitude flights.
Before starting on such a tour, check with a healthcare expert if you have any concerns about your health or safety. Overall, Everest Base Camp Helicopter Tour may provide a relatively safe and awe-inspiring experience of the Himalayan region when handled by trustworthy operators who stress safety.
What kinds of Helicopters are used, and how many passengers can a Helicopter Carry?
In Nepal, many types of helicopters with varying passenger capacities are utilized for tours of the Everest Region.
The tour operator, the precise helicopter model used, and passenger preferences can all influence the choice of helicopter.
The following are some of the most common helicopter models used in Nepal for Everest trips, along with their typical passenger capacities:
Passenger Capacity: 3 to 5 passengers, including the pilot, are typical. Because of its high-altitude performance and adaptability, this is one of the most often utilized helicopters for Everest excursions.
Passenger Capacity: 4–6 persons, plus the pilot. Because of its seating capacity and performance in the Everest region, the Bell 407 is a popular choice for excursions.
Passenger Capacity: 5 to 6 passengers, including the pilot, are usually accommodated. The LongRanger is well-known for its roomy cabin and high level of luxury.
Passenger Capacity: 3 to 5 people, similar to the AS350 B3e. This helicopter model performs well at high altitudes.
Passenger Capacity: Seats four people, including the pilot. The Robinson R66 is a small helicopter that is frequently used for private tours.
While these are common helicopter models used for helicopter tours to the Everest Region, the actual capacity may vary based on factors such as fuel load, altitude, and the helicopter's exact configuration. Furthermore, because certain tour operators may have different helicopter types in their inventory, passenger capacities may vary between operators.
When booking a helicopter tour in Nepal, it's a good idea to ask Holiday Tours Nepal about the precise helicopter model and passenger capacity that will be used for the tour to ensure that it fulfills your needs and expectations.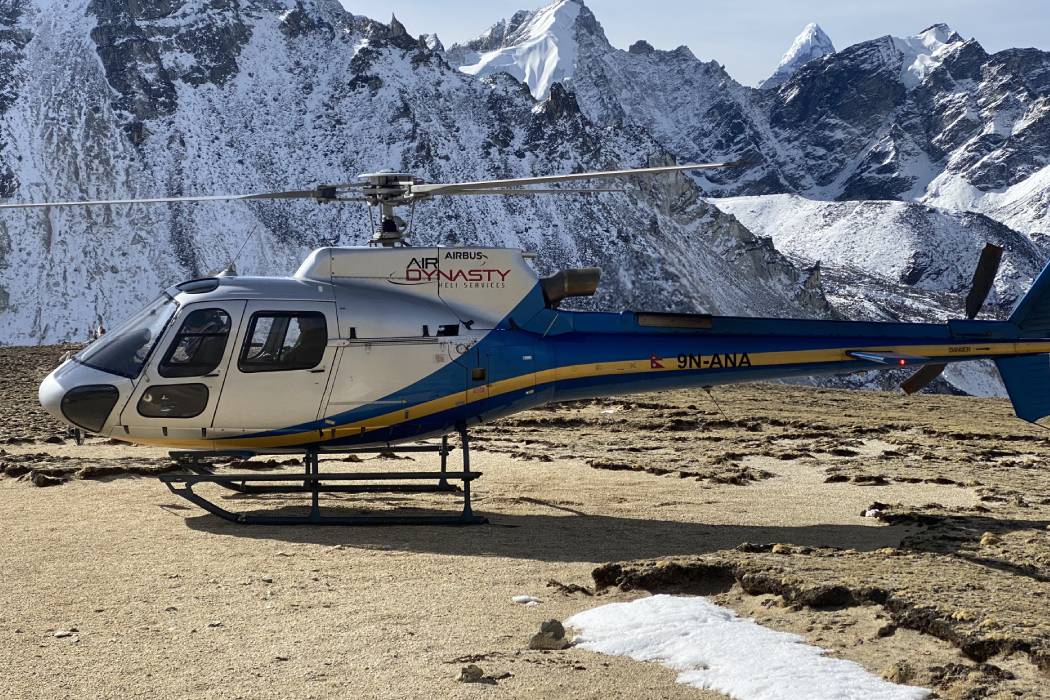 What is the difference between flying to the Everest Region in a Private Helicopter and a Shared Aircraft?
In terms of the distinction between hiring a private helicopter and joining a sharing group, Tour via
Private Helicopter Tour to Everest :
You reserve the entire helicopter for your group.
You have more freedom in selecting departure timings, landing destinations, and the entire route. The tour can be customized based on your choices, providing a more personalized experience. A private tour provides you with privacy and exclusivity.
Because you are paying for the entire helicopter, it is more expensive than sharing group tours.
A private tour may be a better option if you prefer privacy and flexibility and are willing to pay more for a customized experience.
Sharing a Helicopter for Everest with Others:
You share the helicopter with other tourists who have booked the same tour as you, who are usually strangers. Typically, the operator chooses departure hours and itineraries.
Because the expense is shared by all passengers, it is more cost-effective for individuals or smaller groups.
You may have less influence over the tour's specifics and may have to compromise on some preferences. Finally, deciding between a private and shared group helicopter trip is a matter of budget, tastes, and priorities.
A shared group tour, on the other hand, might deliver a wonderful excursion to the Everest region if you're seeking a more affordable choice and don't mind sharing the experience with others.
What to wear and pack for the Everest Base Camp Helicopter Tour with landing.
Dress correctly and have the necessary equipment for an Everest Base Camp Helicopter Trip with a landing to ensure your comfort and safety. Here is a checklist of what to wear and bring:
Clothing: Layer your clothing to adapt to shifting weather conditions. To keep sweat away from your skin, start with a moisture-wicking base layer. Incorporate an insulating layer for warmth as well as a waterproof and windproof outer layer. A warm, insulated jacket is required, especially for the high-altitude landing.
Trousers or pants: Wear hiking pants that are comfortable, moisture-wicking, and breathable. Avoid wearing jeans in damp or chilly conditions since they might be uncomfortable.
Long-Sleeve Shirt: A long-sleeve shirt protects against the sun and can be layered for warmth.
Warm cap or beanie: Keeping your head warm is critical, especially at high elevations. Bring warm, insulated gloves or mittens to protect your hands from the cold. Comfortable, waterproof, and insulated hiking boots with strong ankle support are recommended. Before your tour, make sure they're broken in.
Socks: To keep your feet comfy, use moisture-wicking, toasty socks.
Accessories: High-quality sunglasses with UV protection are required to protect your eyes from the intense mountain glare.
Sunscreen: Use a sunscreen with a high SPF to protect your skin from the harsh Himalayan sun.
Lip Balm: Bring an SPF lip balm to avoid chapped lips.
Items Required Identification: Always carry identification with you, such as a passport or a duplicate of your passport.
Cash: Keep some Nepalese rupees on hand for little purchases and tips.
Water: Bring a reusable water bottle or a hydration device to stay hydrated.
Snacks: Bring energy bars, trail mix, or snacks to keep you going on the tour.
Remember to bring your camera or smartphone to record the breathtaking scenery.
Carry a fully charged cell phone with emergency contact numbers saved.
Bring a compact, lightweight bag to transport your essentials during the landing.
Optional Extras: Binoculars: If you want to go birdwatching or have a closer look at the countryside, binoculars can come in handy.
Trekking Poles: Some people find trekking poles useful for maintaining stability and balance while landing and exploring.
Personal prescriptions: Bring an ample supply of any prescriptions.
Travel Insurance: It is strongly advised that you obtain travel insurance that covers helicopter trips and high-altitude activities. Make sure you're physically prepared for the altitude and unpredictable weather.
Consult with Holiday Tours Nepal for individual needs and any additional equipment they recommend. Always pay attention to the helicopter operator's safety briefings and follow their rules for a safe and pleasurable experience.
Why choose Holiday Tours Nepal when you can book an Everest Base Camp Helicopter Tour with a landing through any travel agency?
We recognize that selecting the proper agency for such an incredible journey is a big decision, so we'd like to highlight some convincing reasons why Holiday Tours Nepal is the best option for your Everest expedition. Safety First: At Holiday Tours Nepal, your safety is our top priority.
We are proud of our exceptional safety record and put our passengers' safety first. Our expert pilots are well-versed in the difficult flying conditions of the Everest region, and our helicopters are rigorously maintained to ensure a safe and smooth voyage. With years of expertise organizing excursions to the Everest region, we have an extensive understanding of the area, its distinctive weather patterns, and the ideal landing places to maximize your experience. Our experience guarantees that your adventure is seamless and unforgettable.
Tailored Experiences.
We recognize that each traveler is unique. As a result, we offer personalized travel packages, allowing you to tailor your trip to your specific needs. We strive to make your experience unique, whether it's through picking landing spots, changing itineraries, or meeting special requests.
Pricing Transparency and Competitiveness.
We believe in delivering pricing transparency with no hidden charges. We provide competitive rates for our tours, guaranteeing that you get exceptional value for your money.
Exceptional Customer Satisfaction.
The positive feedback from our satisfied customers reflects our commitment to offering exceptional service.
Their testimonials and recommendations speak loudly about our commitment to producing outstanding experiences.
Communication Responsiveness.
We take pride in our responsive and attentive communication. Our team is ready to answer your questions, offer advice, and assist you throughout the booking process.
Compliance and Permits.
We strictly adhere to all required permits and local regulations, ensuring that your tour is not only exciting but also legal and ethical. We have a strong connection to the culture, people, and natural beauty of Nepal because we are located there. We are dedicated to displaying Nepal's best while also assisting local communities.
Choosing Holiday Tours Nepal means beginning a once-in-a-lifetime adventure with a reliable and experienced partner.
We are committed to ensuring that your Everest Base Camp helicopter tour is an amazing and safe adventure filled with breathtaking vistas, cultural insights, and lifelong memories.