Trip Introduction : 5 Days Mardi Himal Trekking 2023/2024.
The Mardi Himal Trek traverses a ridge that interconnects the valleys of the Modi River and Mardi River. The Mardi Himal Base Camp Trek offers an enjoyable experience for all individuals. In addition to traversing rhododendron forests, the route traverses a series of exceptionally picturesque valleys, namely Pitamber, Deurali, and Badal Danda Peaks, which are renowned for their natural beauty. Mardi Gras celebrations may also occur during the winter season. The Mardi Trek, renowned for its captivating landscape over the entire route, is commonly referred to as the Annapurna Hidden Treasure Trek.
The establishment of the Mardi Himal Base Camp Routes occurred in 2012 after a comprehensive assessment conducted by the Annapurna Conservation Area Project, the National Trust for Nature Conservation, and the Trekking Agencies Association of Nepal (TAAN).
Trekking to Mardi Himal provides an exceptional opportunity to see breathtaking vistas of majestic snow-capped peaks, such as Annapurna South (7,219 m/23,684 ft),Machapuchare (6,993 m/22,943 ft), and Annapurna I (8,091 m/26,545 ft). This expedition stands out as the most feasible five-day trek, offering convenient accessibility. Mardi Himal, with an elevation of 5,553 meters, Himalchuli, standing at 6,441 m /25,896 ft, and Annapurna III, reaching a height of 7,555 meters, are notable peaks in the region. Additionally, the Dhaulagiri Himal, towering at 8,167 m/26,795 ft, and Gangapurna, with an elevation of 7,454 m/ 24,459 ft, are also prominent features in the area. Mardi Trek is located on the eastern side of a renowned pathway leading to the Annapurna Base Camp, adjacent to the grand and lofty Fishtail Mountain.
The initial segment of the Mardi Himal Trek involves a 40-minute vehicular journey along the Beni Baglung Highway from Pokhara to Naudanda, Kande, followed by a subsequent ascent of 1.5 hours into Australian Camp. The Australian Camp offers a remarkable vantage point from which to observe the Annapurna and Pokhara valley in exquisite clarity. The current location of the camp is Pitam Deurali, positioned amidst the Annapurna South and Mardi Himal Peaks. From this vantage point, one may see the scenic vistas of the Modi Khola Valley as well as a lush rhododendron forest.
The Mardi Himal Base Camp Climb is a highly esteemed trekking destination in Nepal, situated near the eastern region of Machhapuchhre Himal. The Mardi Himal Base Camp, located at the base of the prominent Machhapuchhre peak, often known as the "fishtail" summit, within the Annapurna Range, attracts a limited number of trekkers. The hike traverses captivating rhododendron forests along narrow, meandering pathways until reaching an elevation of around 3,300 meters, where the forest concludes.
Upon reaching the high camp, one is greeted by a visually captivating landscape characterized by elevated hilly terrain, offering a breathtaking panorama encompassing Mardi Himal, Machapuchare, Annapurna South, and Hiunchuli.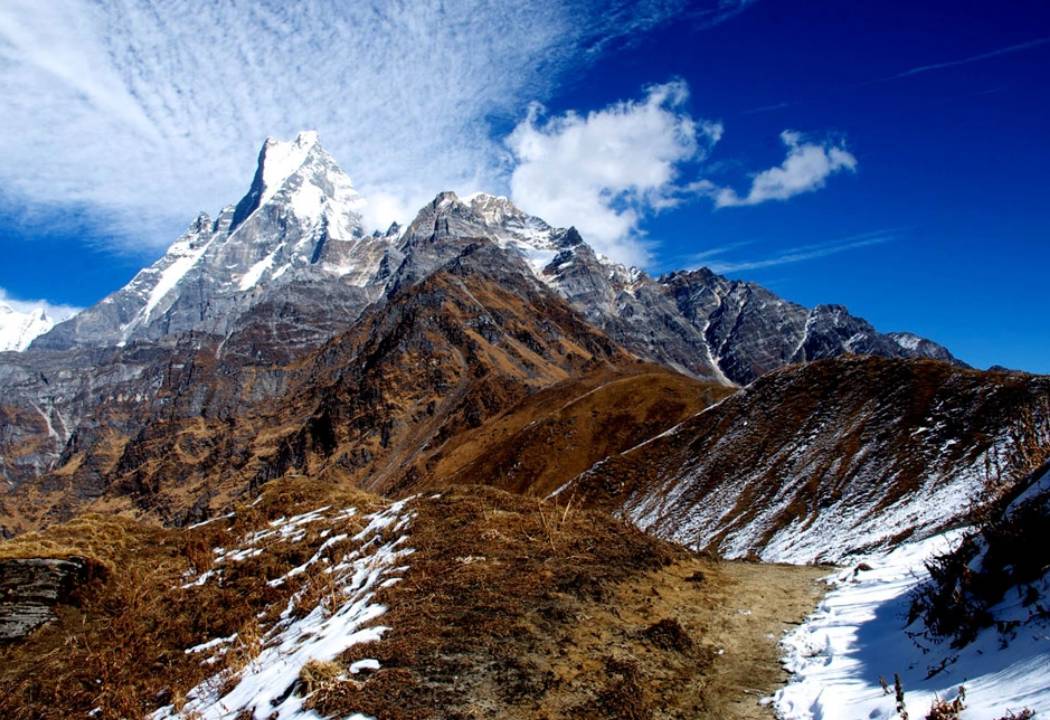 Why 5-day Mardi Himal Trek so popular, and Why should you go on it?
The Mardi Himal Trip, which spans 5 days, is widely recognized for its several notable aspects. This expedition offers a rapid ascent to an elevation of 4550 meters. Despite its popularity among budget-conscious travelers seeking to reach higher altitudes, this trek is considered a mid-budget option because of its relatively higher cost and shorter duration, which nonetheless allows for reaching a height of 4550 meters. During our journey, we will have the opportunity to appreciate awe-inspiring vistas from Badal Danda as we make our way towards the low camp.
Additionally, we will be able to see magnificent panoramas from the Australian camp and explore many plant species at the forest camp. In instances of favorable weather conditions, it is possible to observe the brilliant heavenly view during night-time from both the low camp and the high camp where we witness the Annapurna Base Camp trail during daylight hours. The duration required to reach the high camp is very short; nonetheless, once one arrives, one is greeted with awe-inspiring vistas and panoramic scenes that are truly captivating. The morning vistas exhibit exceptional magnificence if one chooses to stay at that location. Similarly, as we elevate our position, we are presented with awe-inspiring panoramas and surroundings.
Where does the Mardi Himal Trek Start and End?
The Mardi Himal Hike begins at Kande, following a journey of around one and a half hours drive from Pokhara. The trail has creditable qualities, beginning with a consistent and moderate inclination, thereafter transitioning to a harder incline in the vicinity of Australian Camp (2060 m/6758 ft), almost two hours distant. Thereafter, the path experiences a minor descent before Pothana (1950 m/6397 ft), followed by another increase as we approach Deurali (2100 m/6889 ft). A right turn may be observed from Deurali, where a sign bearing the inscription "Forest Camp" is prominently displayed on the roadside. The trail wanders through a tropical rainforest, initially inclining and afterward declining along a crest.
The incline of the path increases notably after reaching the midpoint, afterward progressing gradually until reaching the edge of Forest Camp (2600 m/ 8530 ft). Upon departing from Forest Camp, the initial section of the path has a relatively pronounced incline. However, as one approaches the summit, the topography undergoes a rapid transition towards a less steep gradient. Upon climbing for around one hour, the trail emerges from the dense vegetation of the jungle and progresses towards an exposed ridge, offering awe-inspiring vistas of Machhapuchhre and Annapurna South, situated to the left of Machhapuchhre. The trail commences its departure from Low Camp once more, crossing through the dense vegetation.
Note: To access Mardi Himal Base Camp, situated at an elevation of 4500 m/ 14763 ft , it is possible to ascend the ridge for an additional duration of approximately 4 to 5 hours. The subsequent descent back to High Camp typically requires approximately 4 hours. While this may result in a prolonged day, there exists a perspective in which the visual panorama can be observed in the midpoint. Subsequently, we proceed from our current location towards Low Camp, ultimately reaching Siding. The mode of transportation utilized for the return journey from Siding to Pokhara is a vehicle.
Is the journey to Mardi Himal Base Camp considered challenging ?
The completion of the Mardi Himal Trek may provide challenges. Nevertheless, this does not suggest that one is incapable of achieving success. One can successfully engage in hiking activities by cultivating a genuine interest in the activity and thoroughly engaging in physical fitness training well in advance of embarking on the journey. Despite the moderate difficulty level of the customary Mardi Himal Trip, it is advised for walkers and trekkers to possess a reasonable level of physical fitness. Ultimately, one continues to traverse the majestic Himalayan region of Nepal.
Climate and Weather During the Mardi Himal Trekking.
The optimal periods for visiting or engaging in hiking activities toward Mardi Himal are the spring and fall seasons.
During the times of spring and autumn in Nepal, the presence of clear skies enhances the visual experience by offering breathtaking vistas. During this particular season, the awe-inspiring mountains and landscapes, which are noticeable through the unobstructed sky, propose a profound sense of wonder. As the altitude increases, there is a possibility of temperature variations ranging from +15 to -3 degrees Celsius (59°F to 26.6°F). In contrast to spring and fall, the summer and monsoon seasons exhibit higher levels of precipitation and increased slipperiness.
The likelihood of precipitation is reduced throughout both spring and autumn due to the presence of chilly winds and clear skies. Natural disasters can be influenced by weather conditions. Therefore, mitigating the potential dangers associated with severe weather might contribute to the successful completion of the walk within the designated timeframe. Furthermore, favorable climatic conditions contribute to an improved outlook and facilitate our cognitive and emotional reestablishment of a bond with the natural environment.
Therefore, spring and autumn are considered to be the best seasons owing to their weather patterns and temperature fluctuations, which are influenced by changes in elevation.
Local religion and culture at the Mardi Himal Region around the trekking trail.
Visitors get the opportunity to gain further insights into the local customs and civilizations. This region exhibits a diverse array of ethnic groups residing within its boundaries. The observation of individuals engaged in bamboo craftsmanship, ghee production, food preservation, plant cultivation, and the exploration of diverse cultural practices was made possible.
The region covers a diverse range of ethnic communities, including the Brahmins, Chhetri, Gurung, Magar, and various other tribes. There exists a diverse collection of ethnic groups, which can be generally classified into the Mongolian and Aryan tribes, in summary. The primary cause impacting the selection of this particular area is the presence of a diverse and vibrant cultural environment, characterized by a crowd of customs and practices that exhibit variations based on caste distinctions. The influence of harmony in ethnicity on individuals living around the regions is widely seen.
What are the Recommended Physical Preparations for the Mardi Himal Trek?
Preparing physically for higher heights can provide challenges, particularly for individuals coming outside of the Himalayas. Indeed, Nepal holds the distinction of being the nation situated at the highest elevation on Earth. Fortunately, the Mardi Himal Walk is characterized by a more modest duration and altitude, rendering it shorter in comparison to many alternative trekking routes available in Nepal. Preparing for the Mardi Himal Trek does not provide significant challenges.
How to Prepare for Mardi Himal Trekking?
It is recommended to start preparing three to six months before the beginning of your Mardi Himal journey, walking around 1-2 hours per day for five days. After approximately three weeks, one will acquire the ability, a fitting moment arises to enhance one's capabilities. Engage in the regular practice of carrying a bag weighing between 10 to 15 kilograms, at a dedicated time slot of three hours per week for an extended climbing activity. If, by chance, this particular lifestyle departs from your own, you will promptly encounter the advantages of this gentle physical activity.
Why Select Holiday Tours Nepal for Trekking to Mardi Himal?
Safety is of utmost importance to us. In terms of cost management for our hikes and treks, we obey strictly a policy of non-negotiation. Our trekking guides have been selected based on their technical expertise, proven safety record, sound decision-making abilities, friendly nature, and ability to provide valuable and informed guidance and service. Moreover, they possess a high level of skill in the use of first aid techniques and the utilization of personal protective equipment for ensuring safety. The Annapurna Region ensures the provision of first aid supplies for all guided climbs and excursions.
Is Travel Insurance Required while Going on a trek to Mardi Himal?
Holiday Tours Nepal strongly recommends and wishes all of its clients to obtain travel and medical insurance to protect themselves from unforeseen circumstances that may arise during their Himalayan vacation. Before embarking on a journey to destinations inside the Himalayas, it is important to obtain both travel and medical insurance.
Beginning any journey or high-altitude trek in Nepal requires safety and precautions, Holiday Tours Nepal recommends all its customers acquire the necessary travel and medical insurance as required by law. The policy should provide enough protection for individuals engaging in treks and tours, surrounding a complete range of coverage for physical injuries, fatalities, medical expenses, and deportation costs associated with emergency evacuations.
This coverage should extend to various modes of transportation, including but not limited to helicopter rescue, air ambulance services, and protection for personal belongings.
Acute Mountain Sickness (AMS) during the Mardi Himal Trekking Expedition at High Altitudes.
Altitude Sickness can affect any individual at any time during the time of walk. The reduced availability of oxygen at elevated altitudes poses respiration difficulties. It usually occurs at an altitude above 2500 meters (8,200 feet).
The symptoms of altitude mountain sickness are as follows
The individual is experiencing symptoms of headache and dizziness.
The symptoms of nausea and vomiting.
The topic of discussion pertains to the state of tiredness or fatigue.
Experiencing fatigue yet unable to attain restful sleep.
Loss of appetite.
The emotional states of anger and tension.
To minimize the risk of Acute Mountain Sickness (AMS), individuals should adopt suitable clothing according to the temperature, maintain proper hydration by consuming good amounts of water, follow a nutritious diet, and engage in physical activities. In the event of physical discomfort, it is advisable to seek rest and engage in relaxation techniques. It is recommended to maintain proper hydration wake up early in the morning and have some deep long breaths.
Please do not hesitate to request a break from the leader or guide if you are experiencing any physical discomfort. Occasionally, individuals may observe their dizziness as unimportant; yet, even a seemingly little appearance of this condition could potentially facilitate the unintentional access of water into the brain or lungs which may result in High-altitude cerebral edema (HACE) or High-altitude pulmonary edema (HAPE).
Hotels and Accommodation Facilities at the Mardi Himal Trek?
Each of our walks, treks, and tour itineraries involves lodgings in suitable establishments such as hotels, lodges, homestays, guest houses, and resorts. Camping in certain remote areas is conducted by a prearranged itinerary. The duration of various trails can vary depending on factors such as the fitness level and pace of customers, the occurrence of airplane cancellations, adverse weather conditions, and the condition of roads or trails.
In the context of residing in an economically disadvantaged country, it is frequently necessary for us to compromise on the quality of services available. This is because as we progress towards higher elevations in mountainous areas, there is a decrease in both the abundance of vegetation and the density of the local people.
Nevertheless, due to its status as a popular tourist route, the majority of facilities remain available, although with potential adjustments. Examples of amenities commonly found in various accommodations include access to the internet, availability of hot showers, provision of toilet commodes, availability of laundry services (owing to limited warmth and sunlight), uninterrupted 24-hour power supply, and the quality and availability of rooms (typically designed to meet necessities). Nevertheless, the crew at Holiday Tours Nepal struggles conscientiously to provide excellent facilities and services.
Acclimatization during Mardi Himal trekking.
The ability to adapt to various environmental circumstances, such as weather conditions, local traditions, cultural practices, and food offerings, is crucial for completing and originating satisfaction from the walking experience. When planning routes, it is important to follow the guideline of not ascending more than 1000 meters in a single day. The ability to go beyond 1000 meters in a single day is not allowed and is not considered healthy; however, such an attempt may lead to respiratory challenges and the onset of altitude sickness.
Nevertheless, by accepting a slow and measured approach, it may be conditional that we are facilitating our physiological adjustment to the ambient temperature, atmospheric conditions, and overall climatic conditions.
How to make the Mardi Himal Trek more Fun and Memorable.
Inquiring about the indigenous population, their societal practices, customary norms, and cultural heritage serves as a means to get further knowledge about the traditional and cultural aspects of the destination we are journeying to. The purpose of our effort does not involve continuous ambulation, and the presence of a guide does not necessarily denote a classified dynamic where one merely trails behind.
In certain occasions, reaching a compromise on dietary choices may prove impossible, as such concessions might bring physiological and psychological strain, leading to symptoms such as headaches, gastrointestinal disturbances, and heightened irritability. Additionally, this predicament may engender a perception of inadequate provisions and a feeling of mistreatment. It is advisable for travelers to consistently disclose any food allergies or dietary restrictions when inquiring about hotel options and before embarking on a tour. This practice facilitates the development of alternative options for meals and beverages.
Water and Toilet Facilities during the Mardi Himal Trek .
Due to the scarcity of both natural and man-made amenities in the Highlands, there is a necessity to curtail the quality of services provided. Certain geographical areas experience limited availability of hot showers due to a scarcity of gas and wood resources at higher altitudes. Consequently, individuals residing in these regions are required to incur additional costs for procuring biomass, which is essential for generating the necessary heat to facilitate the provision of hot water for drinking and bathing purposes. The limited availability of transportation hinders the accessibility of mineral waters, making it more advantageous to utilize a portable water filtration system for on-the-go water purification. Water purification tablets are also a viable alternative.
Certain establishments such as lodges, tea shops, and motels in rural areas are equipped with squat toilets, necessitating individuals to assume a squatting position to facilitate the elimination of bodily waste. This design choice is mostly attributed to the limited availability of water resources in these regions. In addition, it should be noted that modern Western toilets necessitate a minimum of 2 to 3 liters of water for each flush, a demand that surpasses the available water supply.
Internet Facilities, and battery recharging facilities during the Mardi Himal Trek?
In specific regions, the absence of electrical amenities can be attributed to inadequate infrastructure. Furthermore, even in locations where such facilities exist, the occurrence of load shedding can lead to an artificial or natural shortage of energy. To replenish the energy reserves of smartphones, cameras, flashlights, and other electronic devices, it is recommended to possess a portable power bank. Certain establishments may impose additional fees for battery recharging services due to the procurement or utilization of power from other sources. Examples of renewable energy sources include solar energy, generators, and personal hydropower systems.
The cost of internet access varies across different regions, and its availability is not universal due to factors such as infrastructure requirements, including power supply and private poles, as well as the significant financial investments required by local communities for the installation of poles, cables, and internet service providers.
Outline itinerary for 5 Day Mardi Himal Trek.
Day 1: Drive Pokhara – Kande and trek to Australian Camp - Pothana- Deurali (2100m, 1 hour drive and 4-5 hours walk).
Day 2: Trek from Pitan Deurali -Forest Camp - Low Camp (2985m, 6-7 hours walk).
Day 3: Trek from Low Camp - High Camp (3550m, 4-5 hours walk).
Day 4: Hike to View Point, Mardi Himal Base Camp and trek down to Badal Danda (3210m, 6-7 hours walk).
Day 5: Trek from Badal Danda to Siding, drive to Pokhara.